Details on geriatric care.
What are the tasks of an elderly care assistant?
Elderly care assistants motivate seniors to actively shape their everyday lives and exercise physically and mentally. They accompany the elderly to doctors and authorities. In addition, geriatric care assistants are involved in the work with relatives and are available to provide advice and support. They explain the techniques of home care or the correct use of aids such as walking aids.
Nursing activities such as personal hygiene and help with nutrition are just as much a part of the job description of the geriatric nurse as an attentive and understanding approach to the people concerned.
Requirements in geriatric care.
You need at least a secondary school leaving certificate to work in geriatric care. As important core competencies, you should have a strong sense of duty and a high degree of reliability. Empathy, a sense of responsibility and physical and psychological resilience are also necessary to master everyday life.
Course of training.
It is a state-regulated school education with a maximum of 24 students in one class. One year of training is divided into theoretical and practical learning phases. In addition to the basics of nursing and practical role-playing, the areas of legal studies, social studies and German are taught and various employment opportunities for older people are presented.
You can graduate from school with a state final exam. This is divided into a written, oral and practical part.
What funding opportunities are there?
Since it is a full education, there is no training allowance. However, you can find out whether you are entitled to funding, for example in the form of BAföG or through the Federal Employment Agency.
Locations for helpers in elderly care.
Elderly care assistants work mainly in old people's homes or care homes, day care centers or in short-term care facilities. In addition, they work in outpatient care and care services for the elderly. Other employment opportunities are offered by joint associations with an affiliated nursing service, in geriatric and gerontopsychiatric departments of hospitals as well as in nursing and rehabilitation clinics. They can also put their knowledge to good use in caring for senior citizens' communities or relatives in need of care.
Very good future chances as an elderly care assistant.
The need for personnel in elderly care is high and continues to grow because people in Germany are getting older. Helping professions are increasingly in demand in the corresponding facilities as well as in the home. A driving license is essential for activities in outpatient services. Almost half of all job advertisements require this supplement from nursing assistants. Those who can meet this requirement expand their job opportunities many times over.
Elderly care at the WBS schools - training with a future.
Funding opportunities for training as a geriatric care assistant.
Have you decided to start an apprenticeship as a geriatric nurse?
There are various funding options from the employment agency, the job center or the state.
Since this is subject to country-specific regulations, there is no uniform regulation.
Let us advise you on the funding options available.
Internship abroad during training as a geriatric care assistant.
Finland, Spain, Portugal, Malta, Great Britain, Denmark or something else?We support everyone who wants to gain experience abroad during training in geriatric care.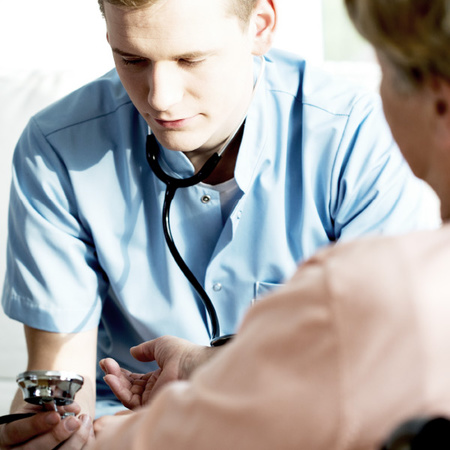 Training as an elderly care assistant: Questions and answers
Why should I start training in geriatric care?
As a geriatric care assistant, you are involved in a meaningful activity that helps others and in which you receive recognition and thanks. The tasks are varied and the working days varied. Every patient and every situation is different and you will always experience touching moments. Working together in a team is also a lot of fun.
A job in the nursing industry also offers very good job prospects. More and more nurses are urgently needed everywhere. The opportunities for further development are also individual and varied. For example, you can further qualify yourself as a practice instructor or nursing service manager.
What do I need for my application as an elderly care assistant?
For your application as an elderly care assistant you need a secondary school leaving certificate. You should also compile meaningful application documents with a tabular curriculum vitae and any certificates or certificates. A driver's license and a certificate of good conduct are also often required.
What do I earn as an elderly care assistant and how long does the training last?
Training and remuneration are regulated in the geriatric care aid by state law. As a rule, you need 1-2 years for the training. Previous knowledge can be recognized and the training time can be shortened.